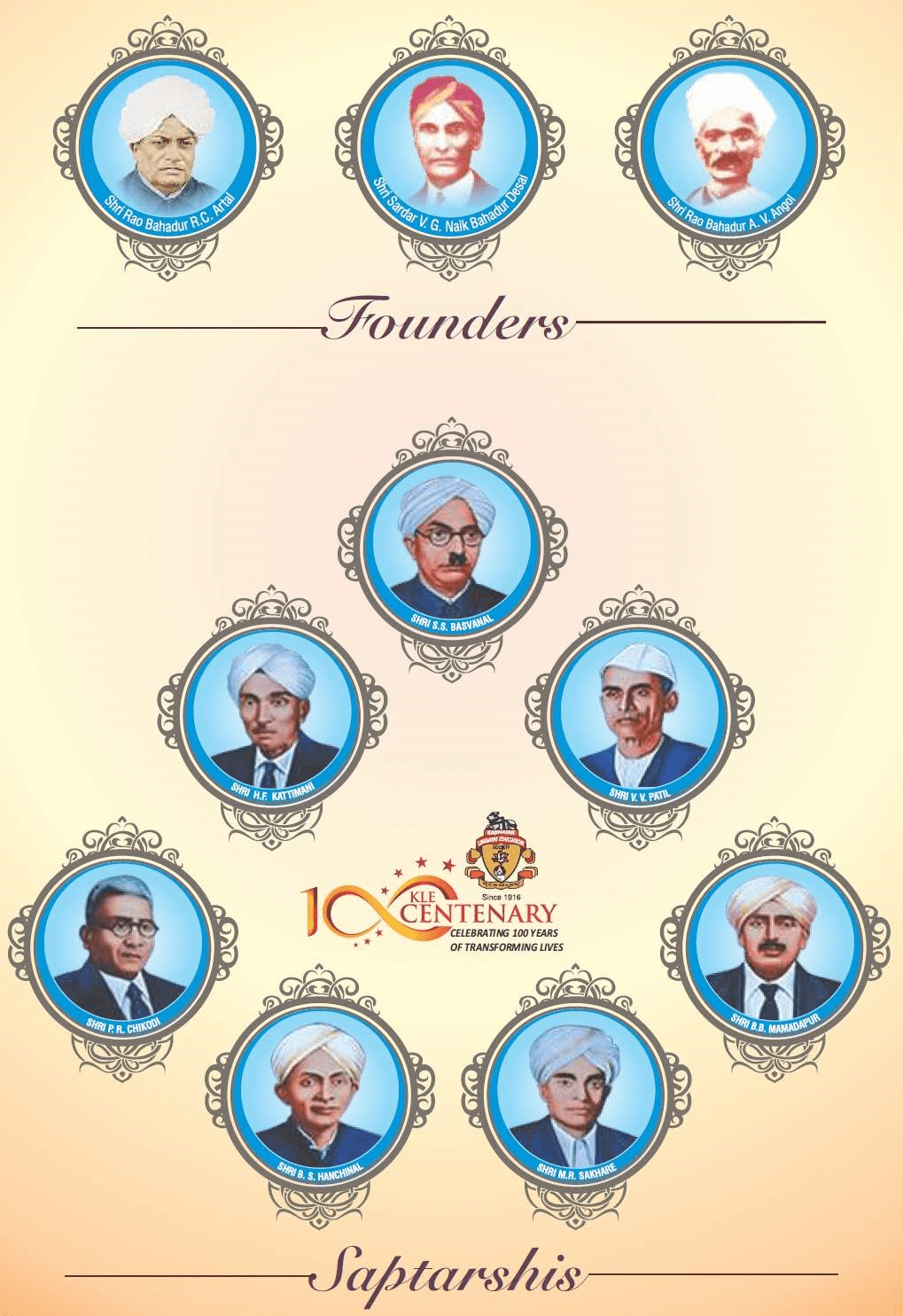 KLE School Amenities
A Learning Community dedicated to building responsible citizens and empowering all learners.
State of the Art Labs
Holistic Learning Environment
Smart Classes
Sprawling 4.5 acres Campus
World Class Swimming Pool
Plethora of Activities
Founder Life Members
The Founder Life Members of the KLE Society are:
Shri S.S. Basavanal (7 November 1893 – 22 December 1951)
Shri B.B. Mamadapur (24 July 1887 – 5 October 1976)
Shri M.R. Sakhare (1892 – 1951)
Shri H.F. Kattimani (1 June 1889 – 8 April 1964)
Shri B.S. Hanchinal (18 March 1891 – August 1979)
Shri P.R. Chikodi (February 1884 – 8 January 1961)
Shri V.V. Patil (10 April 1888 – 3 July 1979)
Early Days and Foundation
KLE is an acronym for Karnatak Lingayat Education Society.
It was founded in 1916 by seven educated youth with the objective of bringing education to the Kannada-speaking region of the erstwhile Bombay Presidency and what is today the North Karnataka region.
The Path So Far
Headquartered at Belgaum, KLE Society runs over 240 educational institutions in Karnataka, South Maharashtra, New Delhi and Dubai . On 13 November 1916, KLE Society started an Anglo Vernacular School in Belgaum. Lingaraj College came into existence in June 1933. In 1947, B.V. Bhoomaraddi College of Engineering and Technology was started in Hubli. Jawaharlal Nehru Medical College at Belgaum and Gudleppa Hallikeri College at Haveri were started in 1963. KLE also runs the world famous KLE engineering college in Belgaum, established in 1979. From 1984 onwards, KLE Society started dental, education, nursing, information technology, computer applications, hotel management, business management, tourism, fashion design, and agriculture colleges, as well as polytechnics across India. Its health care institutions include the super-specialty KLE Society's Dr. Prabhakar Kore Hospital and Medical Research Centre at Belgaum. Today under the leadership of Mr. Prabhakar Kore, the KLE Society runs 242 institutions.
Association of Intellectuals
G.S. Paramasivaiah, a student of the Nobel-laureate Sir CV Raman was the first Principal of the Karnatak Science College, Dharwad. He was also the Secretary of KLE Society Belgaum. He played an important role in the founding of Karnatak University. In 1947, the Government of Bombay Province made attempts to establish a university in  Karnataka. As per the resolution No. 7914 of Education and Industries Department, Government of Bombay, a committee was constituted on 17 April 1947 to make recommendations regarding Form, Scope, Constitution and Jurisdiction of a University for Karnataka. (which meant Bombay Karnataka because Bombay Karnataka was a southern part of Bombay Province).
Lingayat educationalists like Prof. G.S. Paramasivaiah along with Prof S.S. Basavanal and Dr. S.C Nandimath were associated with the committee. The Karnatak University came into existence in 1949.
The curriculum at the KLE Society School is set to meet the standards of the CBSE board to enable the students to perform well at the CBSE Board exams. The adapted curriculum is aided with several curricular and co-curricular activities which enable each student to realize their maximum potential and develop themselves into academically proficient, morally fit and socially responsible individuals.
The KLE Society School has been designed keeping in mind excellent infrastructure facilities, good ventilation, state of the art classrooms and a holistic environment for learning. Students are encouraged to pursue their talents and nuture their passion in various fields such as sports, arts and curriculum based interests  in well equipped facilities  in the sprawling campus.
 Our alumni, settled in different parts of the world are a testimony to our achievements and endeavors and are ambassadors promoting the 'Brand KLE' throughout the world.Unmindful of the constraints, KLE ensures that every individual with a desire to learn, irrespective of which strata he/she belongs to in the society has access to excellent infrastructure of international standards.